Data Driven Company
Red Tie DDC-CMM Framework©
Red Tie DDC-CMM Framework© is structured and measurable methodology that can lead you on your way to create & mature Data-Driven Company.
The topic of the Data driven approach has been resonating through the world of data in the past few years. To become a real "Data Driven Company" is one of the traditional strategic targets of companies in the past 5 years. However reaching of this goal is not easy and it often fails.
Through last decades organizations invested significant budgets into modern data platforms. More and more business users needs to work with the data on a daily basis and require much more flexible access and speed of requirements resolution. But in spite of huge investments the gap between standard BI's lack of flexibility to deliver and new needs of the business user is still growing. Today we are experiencing strong requirements to balance the governance with the need for scalability, accessibility, flexibility and self-service for everyone who wants and is able to use the data for his daily agenda.
Therefore in Red Tie we have developed a unique The DDC-CMM framework© that can help you to get step-by-step to your "Data Driven Company" target. This framework is an ideal combination of following two models:
1) Data-Driven Company (DDC) model
This is a holistic and structured model that addresses not only technical capabilities, but also capabilities related to data culture, skills and knowledge. The model helps you to manage critical aspects of data-driven company and dependencies between the capabilities.
forge company-wide DATA CULTURE & STRATEGY
empower business users with proper DATA LITERACY & SKILLS
leverage state-of-the-art technologies into robust DATA PLATFORM & SERVICES
ensure DATA CREDIBILITY & CLARITY through data asset management and governance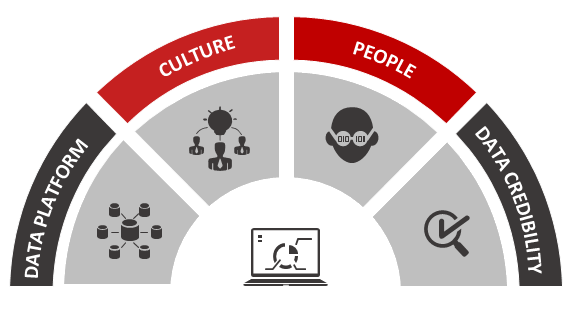 2) Capability Maturity Model (CMM)
CMM is methodology for systematic and harmonized creation and maturation of complex and inter-linked organizational capabilities.
proven approach for complex and long-term maturation effort required to reach DDC vision
focused on harmonized and synchronized development of CAPABILITIES across entire organization
level-defined MODEL to assess current 'position' and to plan achievable and measurable ROADMAP to the next maturity level
DDC-CMM Value Proposition & Implementation Options
In order to begin a successful journey towards the Data Driven Company with our customers we first combine the knowledge contained in our DDC-CCM Framework with customer's maturity assessments. Based on the result we together define roadmap of arrangements that will shift customer's organization forward to reach the target.
Ready-to-use DDC-CMM Framework as a Reference Model
structured navigation map for any company aiming to improve and mature its data practice
Removes ambiguity and sets common language and reference across the organization
Defines scope & metrics, actionable guideline for next maturity level
High-level Assessment
Quick self-assessment based on prepared questionnaires to map "as-is" maturity status
Management interviews to clarify/validate key self-assessment findings and provide expert view
Expert evaluation – maturity levels and metrics, key findings and "to-be" recommendations
Additional Assessment Services
Training of internal "DDC maturity assessors"
Expert support for internal assessment
Detailed workshops for selected parts of organization (usually the most critical ones)
Expert consultation on selected business scenarios and quick-wins ideas
Expert audit of internal assessment results

DDC-CMM Assessment Outputs
Bellow are shown the examples of Assessment outputs:
Prepared Questionnaires
Filled questionnaires per each area / assessed business unit
Maturity Chart with Business Unit, Company and Expert views
Reference Model & Assessment Overview
Assessment Report
Evaluation summary
Findings, comments and examples per each area
Conclusions and recommendations (SWOT)
Maturation RoadMap suggestion
DDC -CMM Framework implementation
Based on Assessment results a suggested RoadMap is implemented in iterative manner.
For more information you can also visit our partner pages www.dataheroes.cz or read our blog.